"
Cory Branan's
got an evil streak/And a way with words that'll bring you to your knees/Oh he can play the wildest shows and he can sing so sweet/I still sing along."
That's a lyric from one of my favorite Lucero songs.
And this guy, Cory Branan from the song, is going to be playing some shows in town this week. If he is all Ben Nichols of Lucero sings he is, it should be a good time.
I've been a fan of the band
Lucero
since I first heard "Tears don't matter much" on KRUA 88.1, the University of Alaska Anchorage radio station. The whiskey infused alt. country stuff just does it for me I guess. I called up my friend J.R., who worked at the station, and sang it to him in the phone. I had to know what it was, "Who plays that?"
I booked it over to Mammoth Music and picked up a copy of "That much further west." And proceeded to listen to it over and over again.
BEN NICHOLS AT DANTE'S IN PORTLAND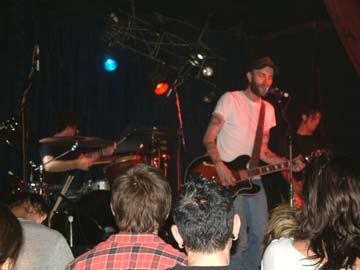 If you like what you hear on Branan's
MySpace
, come out for a show or two! You know I'm looking forward to it.